Image Credits: Diego Delso, delso.photo, License CC-BY-SA
Montreal is a bit New York, a sou peon of Paris but, ultimately, a fine city in its own right. It's Canada's second-largest hub (behind Toronto), occupying a 15km by 40km island in the St Lawrence River.
Explorer Jacques Cartier first found the spot in 1535, but the city was properly founded in 1642, and quickly became an important fur-trading centre.
Today it's renowned for world-class festivals (jazz, comedy, fireworks), excellent food, and cool creativity – Montreal is one of only three Unesco-designated Cities of Design.
Below, a panorama of Downtown Montreal and part of its metropolitan area taken from the Chalet du Mont Royal at the top of Mount Royal

Before you travel, read Sacré  Blues: An Unsentimental Journey Through Quebec by Taras Grescoe (2001), an amusing intro to the region's politics and foibles.
Listen to some Canadian born Leonard Cohen  and Susie Arioli  (local jazz muse) and gear up on your French thus even-though this is the most English-speaking part of Quebec, attempts to speak the official language will be appreciated.
Flying in from the UK on a clear day gives great views of Greenland and, closer, the mighty St Lawrence.
During the seven-hour flight you'll be asked to fill in a Customs Declaration Card (E311).
Picture Below, the Bonsecours Market in autumn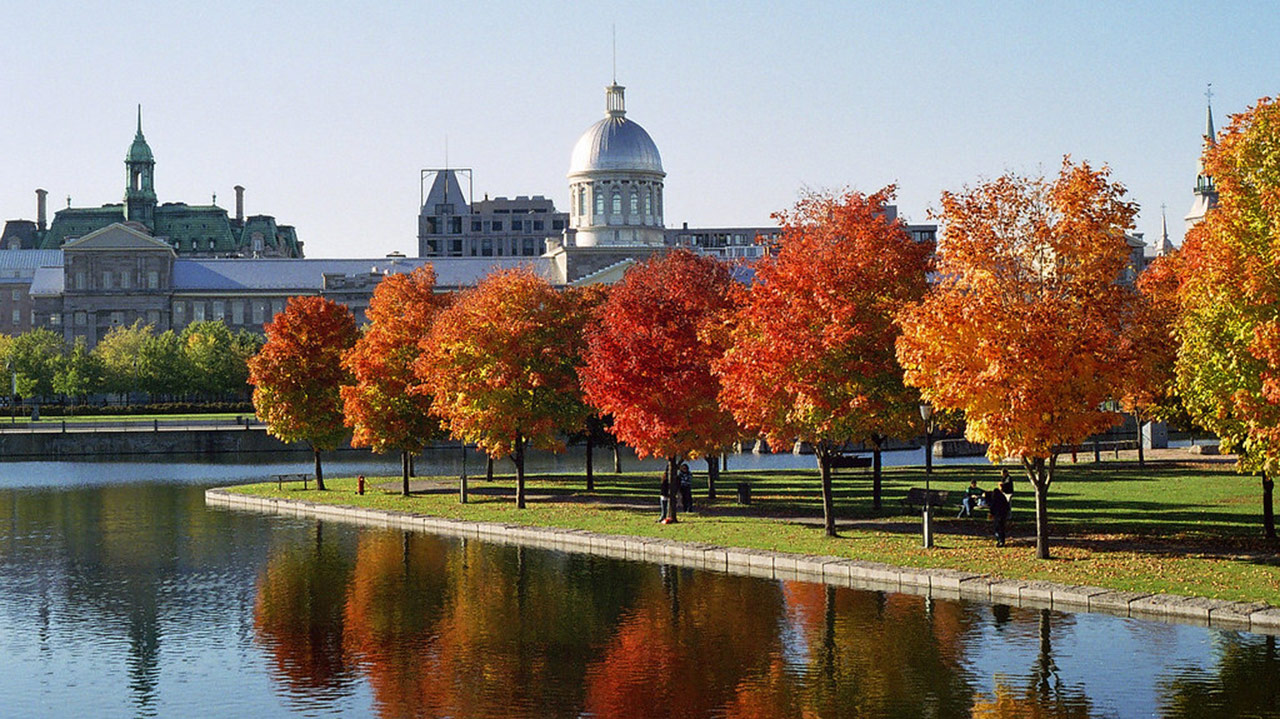 Montreal's Trudeau International airport  is 22km west of the city centre. Facilities are sleek and modern – the airport has free Wi-Fi, and even some eco- credentials with signs in French and English.
When you disembark, there are toilets and water fountains – use them before hitting the snaking queue to clear customs, where your Declaration Card is stamped. Once you've collected your bags, join a queue to hand in your stamped card.
Arrivals has the usual: foreign exchange office, ATM, café, shops and a tourist info counter. There is a Marriott hotel in the US departures terminal, which has a gym and pool.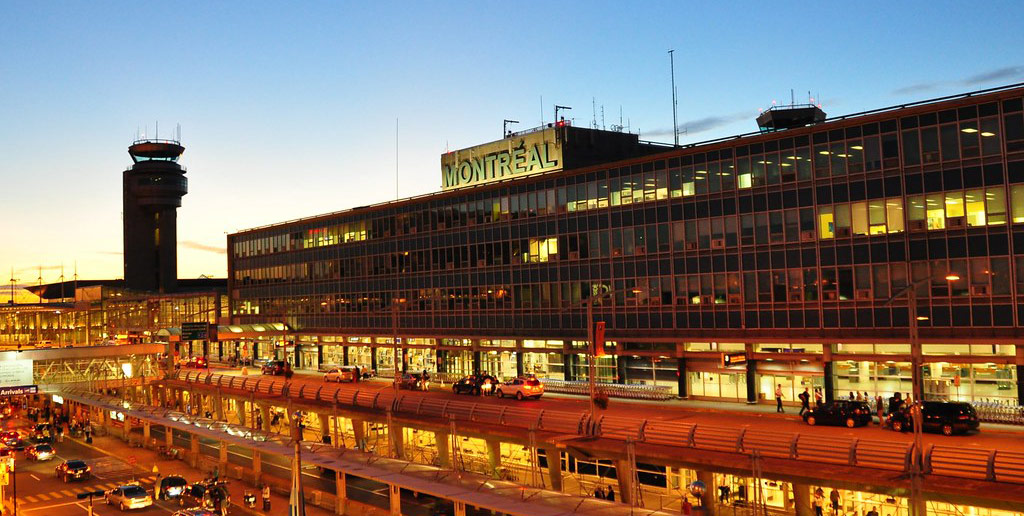 Departing from outside Arrivals, the 747 bus line service runs 24 hours a day, 7 days a week, between the Montréal-Trudeau airport and downtown Montréal (corner of Berri and Sainte-Catherine – Berri-UQAM station).
Travel time may vary between 45 to 70 minutes, depending on traffic conditions.
Bus Fares
The fare is $10 for unlimited travel throughout The Société de transport de Montréal
(STM) bus and métro network and is valid for 24 consecutive hours.
| Bus Fares | Prices | Ride Conditions |
| --- | --- | --- |
| | | The only fare sold on the Bus. Exact change required. |
| | | |
| | | |
| | | |
| | | |
| | | From Friday 4 PM, until Monday 5 AM |
| | | Consecutive days and until 11:59 PM on the 3rd day |
| | | Valid from Monday until Sunday 11:59 PM |
| | | Valid from the 1st to last day of the month |
| | | 747 Bus Line to Downtown Montreal |
Accepted fares on bus
1-day pass (24 h)
Unlimited Weekend
3-day pass – consecutive days
Hebdo – Monday to Sunday
Other accepted fares
Monthly pass, regular or reduced fare
4-month pass and monthly TRAM passes, zone 1-8
Points of sale at the airport
Fares can be purchased from the automated dispensers on the international arrivals level.
Taxis leave from outside Arrivals, too; a dispatcher will help you find one. The fixed taxi fare to downtown Montreal is C$41. All the main car-hire companies have branches at the airport, located on the ground floor of the car park in front of the terminal.
Transportation Section Data Courtesy of The City of Montreal
There is currently no rail link, although an Aerotrain project is in development.
Start in Vieux Montreal: amble the old alleys (nicest is Rue St-Paul) lined with cafes and galleries, and visit the 19th-century Basilique Notre-Dame. 
Buy a travel card (C$10) and take Bus 55 north up Rue St-Laurent from Rue St-Jacques (east Old Town). Hop on and off this neighborhood-slicing ride to sample some of Montreal's best bakeries, chocolatiers, delis and more. 
Recommendations include Schwartz's (3895 St-Laurent) for iconic brisket sandwiches and Ave Laurier, for Dieu du Ciel microbrewery and independent shops; and Ave Fairmont, for bagels (Fairmont Bagel). End at Jean-Talon Market, which overflows with excellent Quebecois produce.
The 55 heads back south down St-Urbain; get off at Rue Rachel and head south into Mount Royal Park to hike off all that food. Exit via Ave des Pins; stroll the McGill University area and high-rise Downtown, ending in the Quartier des Spectacles.